Introducing teacher reports
My name is Paulina and I am a Product Manager here at Mathspace.
Today marks the official launch of our brand new suite of teacher reports. After many months of research and development, I'm very pleased to be able to present this range of reporting tools which gives you practical and easy-to-action insights to help you in the day-to-day running of your classroom.
First some background…
At the start of the year, we set out to begin a major overhaul of all our existing reporting features. In designing the new reports, we worked very closely with teachers across both Australia and the United States to make sure we were focusing on the right needs. You can watch our Webinar on how we leverage user feedback as an integral aspect of our design process here: Shaping Digital Resources: How we turn teachers' ideas into product features at Mathspace.
As a result of interviewing teachers from various different backgrounds and methodologies, we identified a common pain point across all: lack of time. Sound familiar? Teachers were asking for tools to make their day to day more efficient and to help them individualize where needed.
After many interviews and prototypes, we identified four key areas where teachers wanted more information:
Effort
Activity
Proficiency
Growth of students
Reports on these four areas would help teachers to monitor classrooms efficiently, identify knowledge gaps and support struggling students. These kinds of reports would also help teachers with how they report, giving important information for report cards and parent teacher nights.
The result?
We've released a set of student and class reports that will hopefully empower teachers in their learning environment to achieve their goals and help schools move towards a highly personalized approach which focuses on individual student growth.
Read on to see the new features we've added to Mathspace:

Insights
Class and Student Insights provide a quick snapshot of what the students worked on, and where they need help. In less than 2 minutes, teachers can identify the questions that the whole class struggled with and also students that have not done their work. Insights reports work across both custom and adaptive tasks, and it's the ideal tool to open up right before a new lesson.

Activity
Class and Student Activity display information around the effort that students are putting in. Teachers can select a time frame to view time spent in and out of school hours, questions completed and points gained, to check that students are staying on top of their expected effort. Teachers can also use the Live Mode to verify that students are on task during a lesson and identify if anyone needs assistance. Activity reports are a useful tool to have conversations with the students.

Mastery
Class and Student Mastery reports show the proficiency that students are achieving with their practice. Mastery Levels were introduced to make the report more approachable. It is now easier to identify which topics have been mastered and find knowledge gaps by looking out for the white areas in the heat-map.  Whether teachers use custom or adaptive tasks, it is possible to view proficiency of the whole class across the complete textbook to monitor progress across school years.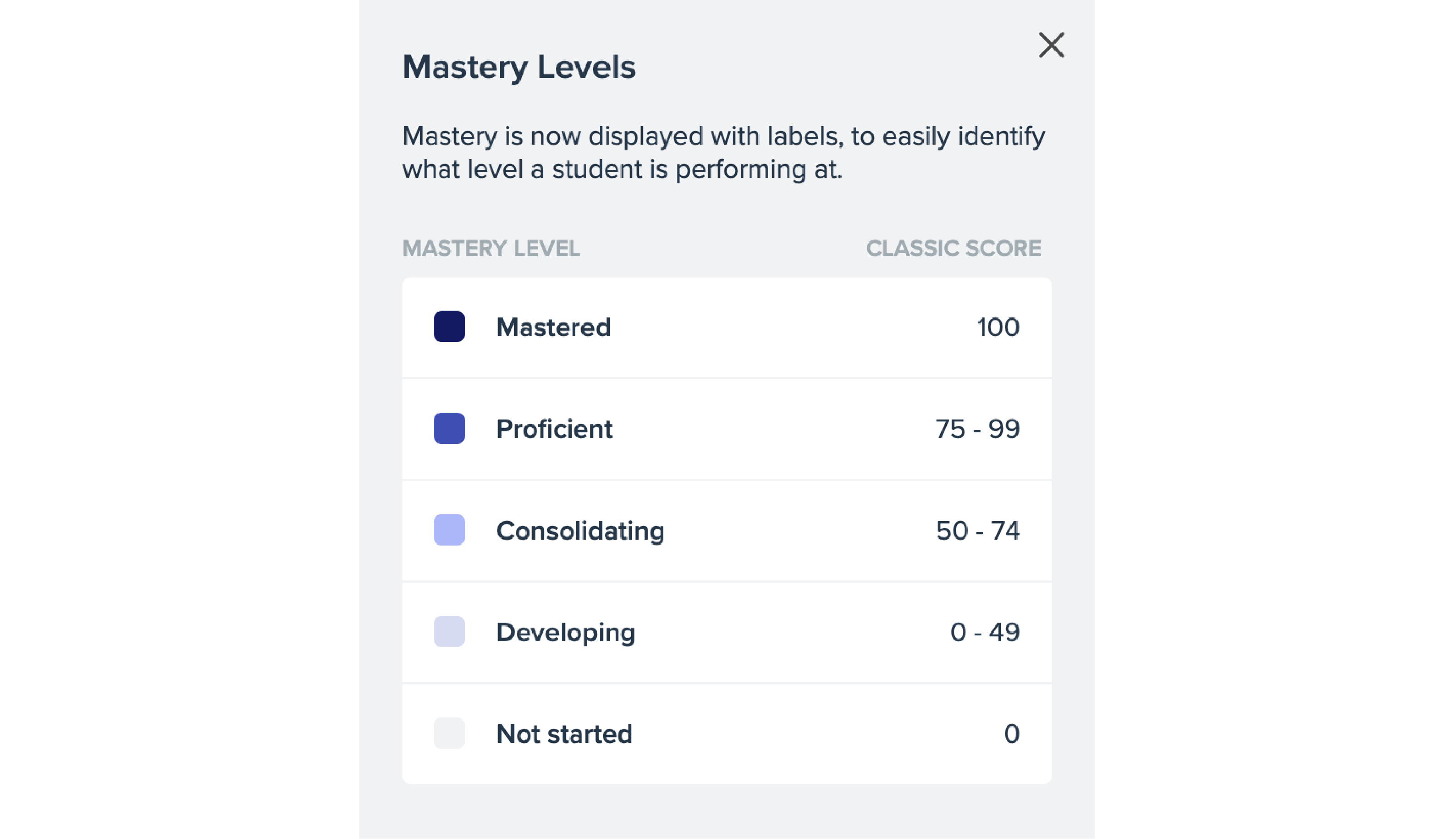 Tasks
Class and Student Tasks display the status and results of assignments. They are designed to provide a quick birds-eye view of whether the class and students are completing their assignments and how they are doing. It also includes a really useful view of how each student in a class is progressing with their own tasks, to better support teachers that are individualising and have each of their students doing different work.