For the longest time
For the longest time, the words of Sir Ken have rung true to me. I'm deeply saddened by the news of his passing, but I do know that he has left a legacy of a whole army of education fighters all over the world and that his words will ring true for some time to come.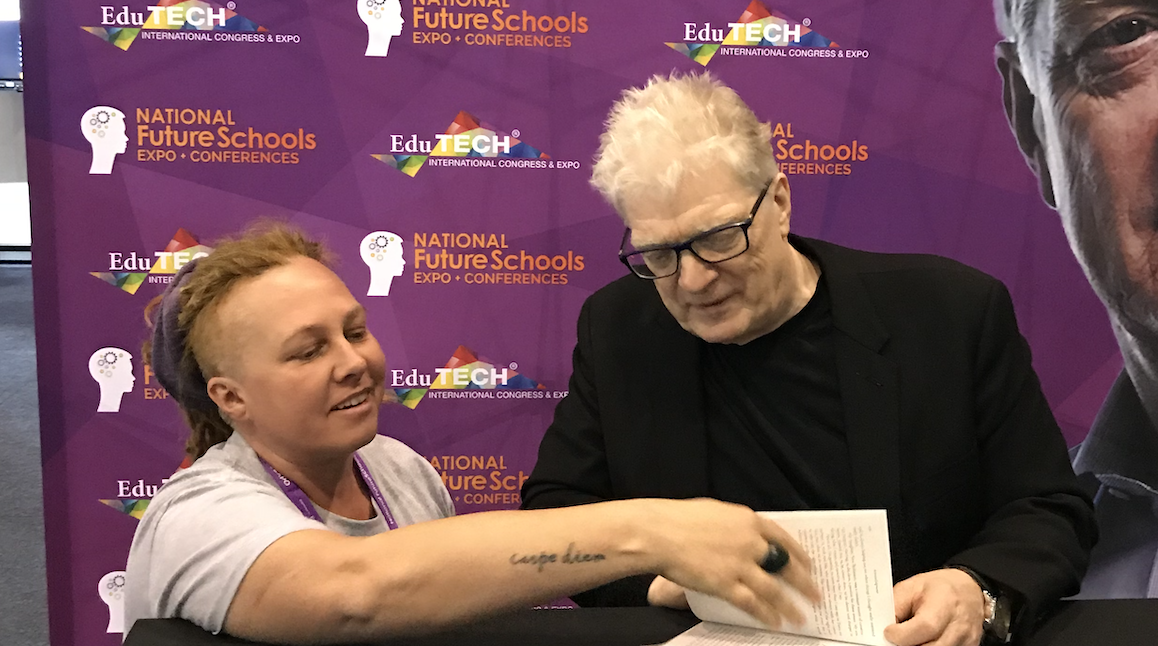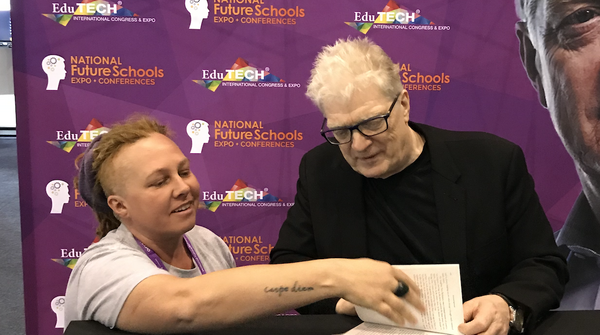 For the longest time, the words of Sir Ken have rung true to me.
The first of his books that I purchased was The Element, it spoke to me in a way that struck a chord so deep that I bought five more copies instantly. I reread my own copy so many times, highlighting phrases and folding over corners. I would speak so passionately about how true these sentiments felt to me in conversations over coffee with friends, in my staff room with my colleagues and at leadership summits with my fellow executive team. I spoke so strongly, so passionately that when they were as hooked on these ideas as I was, that I could then gift them a copy of the book. Adding another one to my army of converts and believers in the need for education transformation.
As an aside, The Element by Sir Ken and this eBook Stop Stealing Dreams by Seth Godin I consider essential reading!
No, I wasn't obsessed with the man himself, but I did always admire the fact that a man who had the public platform and voice that he did would use it for such an important cause: education.
I was one of those millions who shared what I consider one of the most iconic, most watched and most shared videos ever. His TED talk on education. Do schools kill creativity, but one of my favourites was this illustrated video, Changing education paradigms. I could say that he inspired me to be the educator I am today, but I think a better truth is that he awoke in me my passion. My element, which gave me the confidence to be daring. Take chances. Attempt my own type of educational transformation.
The fact is that given the challenges we face, education doesn't need to be reformed -- it needs to be transformed. The key to this transformation is not to standardize education, but to personalize it, to build achievement on discovering the individual talents of each child, to put students in an environment where they want to learn and where they can naturally discover their true passions.
I came into mathematics education because I felt that it needed to be, and should be better. As a teacher I consistently found myself in a position of leading instructional change. The most dramatic transformational change that I led was at a school named Hawker College, located in the capital of Australia. At Hawker we had a focus on learning how to learn which set these senior students up to be lifetime learners well adept and ready for university instruction. We took maths off the timetable, knocked down walls, personalized learning, removed the time served model of education and replaced it with measures of learning, we received criticism from peers, the community and questions form the department, but we succeeded. Parents called to say their kids were actually doing and talking about maths, they came into the school to talk about learning, attendance went down and then it went up, right up but more importantly engagement went up as well. Students were more prepared than their peers at university and more kids were passing their trades entrance tests. Teachers were passionate again, some coming back from retirement to teach 10 more years but only while this model was in place. We worked harder than ever before and were rewarded like never before. We learned more as teachers those years than I think my entire university degree had offered, we made mistakes and learned from them, iterating each semester. Keeping the good and adjusting the not so good.  
If you're not prepared to be wrong, you'll never come up with anything original.
Sir Ken was my right hand through these times. Whenever things got tough, and they did, I would read again, his words so powerful that I was driven even more to achieve and succeed at what must be done for education.
We stigmatize mistakes. And we're now running national educational systems where mistakes are the worst thing you can make — and the result is that we are educating people out of their creative capacities.
Fast forward and I've now been Head of Curriculum at Mathspace for 7 years. Still advocating for change, just now through a product lens, ensuring that Mathspace allows for plenty of opportunities for creativity, discourse and exploration. His words have continued to give me confidence and reassured me that my path, my element, is to seek out the best ways to help implement change to traditional models for education. To challenge the institution that was designed for producing factory workers, challenge it to become one that can support everyone's element. The painters, the musicians, the historians, the scientists - everyone - but especially important for me, the mathematicians.
Being in your element is not only about aptitude, it's about passion: it is about loving what you do.
I had the great pleasure to meet Sir Ken just two years ago, we spoke briefly of how his words had empowered me as a young leader in the education system. His response, "everyone's words have the capacity to be empowering, we just have to listen."
So I urge you to read The Element, find your passion, encourage others to find their passions. Be both the empowered listener and the empowered speaker. We can all be a change for good, Sir Ken taught me that. I'm deeply saddened by the news of his passing, but I do know that he has left a legacy of a whole army of education fighters all over the world and that his words will ring true for some time to come.
What you do for yourself dies with you when you leave this world, what you do for others lives on forever.
All quotes from The Element, by Sir Ken Robinson.