Creating company values your team can own


At Mathspace, we believe that EVERY student can excel at Mathematics with the right help at the right time. Our mission is to be:
The right help at the right time for every student.
As I reflect on 2016 I realise what a big year it was for Mathspace.
At  our recent company-wide get together I took a moment to look around.  Some of the team was sitting at our Headquarters in Sydney, Australia.  Other people dialled in from lounge rooms, studies and even airport  lounges across North America and the UK.
I  asked who had joined in 2016. Even I was surprised to see more than  three-quarters of the team raise their arms. It feels like these people  have made such an impact already. How have so many of them only been  working with us for a few months?
As CEO of a fast growing edtech startup, you rarely get the chance to pause and reflect. But it's so important to do so.
In  the lead up to our get together I took the opportunity to reflect on  the culture and values that have delivered this world-class product. I  took a moment to think about the people who form the backbone of  Mathspace.
In  a small company of 3 to 5 people, culture and values are intrinsic. Now  a team of more than 40, I wanted to articulate our values, and capture  this incredible company culture that we have.
Why?
Because I want us to stay true to who we are and what we're here to do. As our team continues to grow, I want to make sure we continue to find  people who share our values. I want to ensure that our product  priorities are always aligned to what we value.
Now I'm no marketing genius. I'm definitely not a copywriter. But then again, I didn't need our values to sound 'nice', I needed them to mean something. I wanted people to own them and to think:
'Yes! That's why I work for Mathspace.'
In  my research I came across a slide from Netflix that beautifully  illustrated the futility of having disingenuous company values…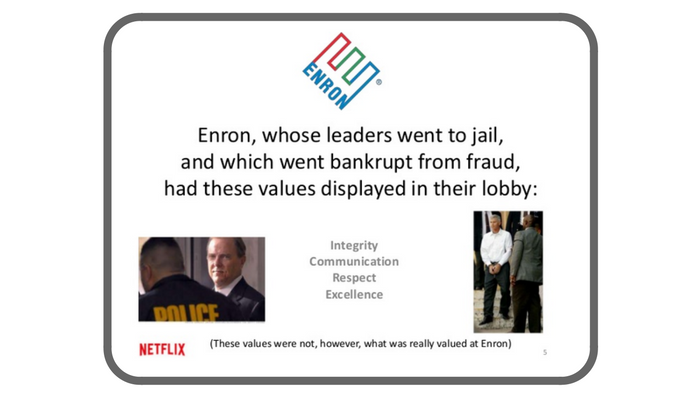 Our  company values had to be tied to the behaviours and skills that are  valued in each and every team member (special thanks to Enron for  helping me to realise this!).
I  wanted the whole team to contribute to our values. The cool thing is  that everyone wanted to be involved, because they care about this just  as much as I do.
We've landed on 5 values that we think best capture what we value in each other.
Impact- we create outsized impact with a lean culture mindset
Continuous Improvement- we have a growth mindset and foster it in colleagues and customers.
Customer Love- we have genuine care for the students and teachers using Mathspace
Selflessness- we work as one team to be so much greater than the sum of our parts
Purpose- we inspire others with our passion for Mathematics education
In presenting these back to the team it felt like we got them just right. Looking at all of the head nods and smiling faces, I could sense people thinking:
'Yes! That's why I work for Mathspace.'
Writing the values is the easy part. It's working and living by them that's the more important part.
The  mathematician in me wanted to find a measurable way of knowing whether  or not we are sticking to our values (I'm sure this comes as no  surprise!).
So  we've decided to center our performance reviews on these company  values. Our entire team (myself included) will be reviewed, promoted,  and rewarded based on how well they execute on our mission whilst  upholding the values we hold dear.
So  long as we do this, everything else will look after itself. I know this  because many of the team members we have today did not start their  journey at Mathspace with a job application. They didn't need to see a  job description or a job title to know that they wanted to work with  Mathspace. They reached out to us because they believe in what we're  doing, and why we're doing it. They share our belief that every student can excel at Mathematics.
I can't wait to meet more of these like-minded, passionate people in 2017 as our team continues to grow.