Introducing our NAPLAN 2019 resources
We're pleased to announce that our NAPLAN resources for 2019 are now available in Australia.
At Mathspace, we're committed to creating resources that go beyond simply testing students. So this year, in addition to creating sample papers, we have also built a NAPLAN Report which provides outcome reporting and band predictions for your class and individual students.

About the sample papers
We have three full-length NAPLAN sample papers, created by our team of in-house curriculum experts. They will be accessible on Mathspace in the Australian and state curricula for Years 7 and 9, under 'Topics'.
(Tip: Make sure you set the sample paper as a custom task. We cannot generate your report if you assign adaptive tasks.)
Check down below for 3 simple steps on how to assign NAPLAN sample papers for your students.
How do I access the NAPLAN sample papers?
The papers are available under the Australian and state curricula for years 7 and 9.
Once you create a new task for your class, make sure to select "Custom Task" as the task type. We cannot generate your report if you assign adaptive tasks.
You can choose to vary or keep the questions the same for all your students, and you can choose to omit hints and video demonstrations.
Select your state curriculum and choose "NAPLAN sample papers" under topics.
Pull the questions over, name the task and save.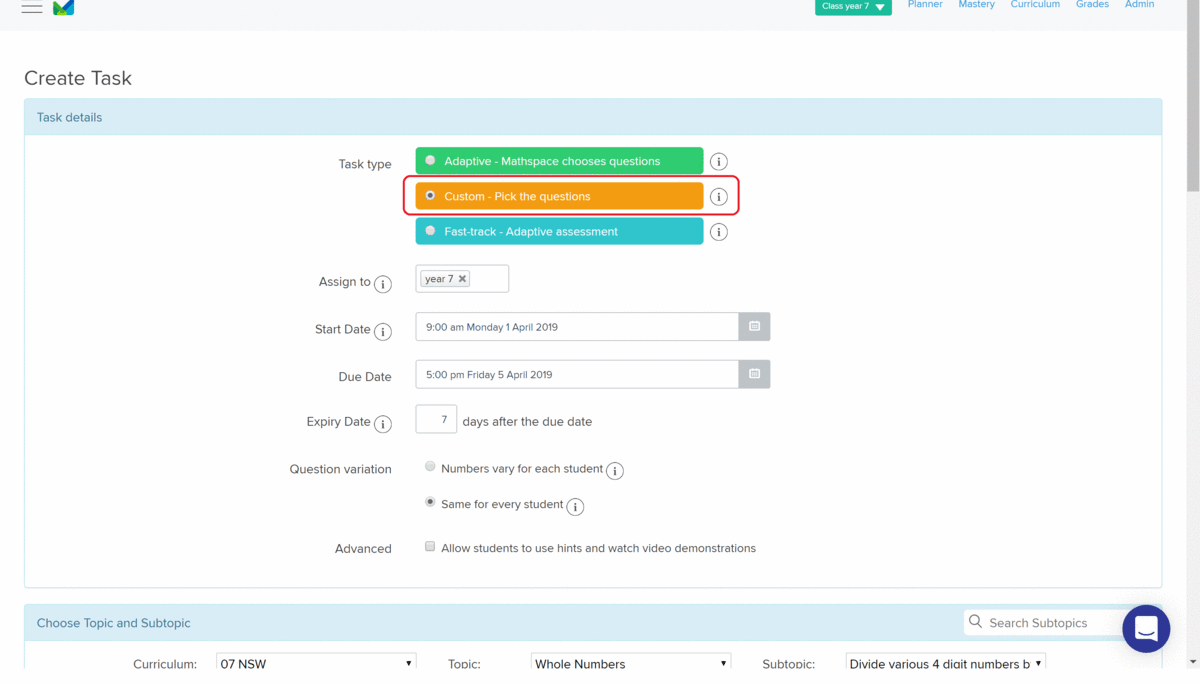 You can also share your NAPLAN sample papers with other teachers once you have created your task.

NAPLAN Report - Deep Learning, Not Rote Learning
Once you start setting sample papers, we will send you your NAPLAN Report based on your students' results.
A NAPLAN Report will give you:
A predictive band analysis
Outcome reporting, and
Automatic task recommendations
The report will show you the skills your class and individual students are struggling with, and recommend tasks tailored to reinforce those concepts to assist the growth of your students' maths skills in the long-run.